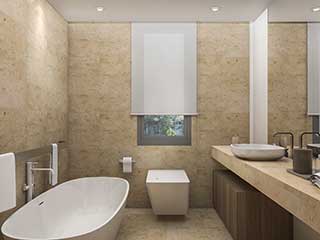 The perfect window coverings are a combination of affordability, timeless style, and functionality. Roller shades fulfill all three of these qualities, making them a great investment for both homes and office spaces. Whether you need new blinds or want to update the current coverings that you have, roller shades may be the best fit for you. Here's why:
Simple and Stylish
With the option to hand-select the materials used for the shades, you have the option to make them as elaborate or as simple as you'd like. This versatility allows a very stylish alternative to otherwise mundane fixtures in your home.
Affordable Window Treatments
The basic nature of this style of shades allows for a huge range of pricing for each product. This wide range means that you can easily find something that is affordable without sacrificing on the other qualities. Blinds tend to be more expensive due to the heavier and more firm fixtures and slats that they use. That's why shades are, generally speaking, the more affordable option. And while there are all sorts of different products that fall into the window covering category, roller shades are by far the most popular.
Insulation and Convenience
Roller shades are by no means the best insulating blinds out there. They're nowhere near as effective as cellular shades, but they're not without merit. Most types of fabrics can provide an extra layer of air barrier. This will help you reduce at least some of the heat transfer. A double layer shade both screens your home for added privacy as well as protects it from the outdoor elements, such as the harsh sun. Custom-made options come in a variety of styles and prices, making this covering option the most convenient and easily installed of its kind.
Great Privacy Addition
The ability to raise and lower the blinds with ease, allows you to grant your home some easily adjustable privacy. Depending on the materials used, you can make your property as private as you like with very little effort. The less sheer the shades, the less light will enter and the more seclusion you'll achieve.
Dual Roller Shades Available
This feature not only increases privacy but also gives you greater control of sunlight exposure. Similarly, you can also affect the temperature inside your home or office by blocking out—or welcoming in—the heat or chill from outside with a simple adjustment of one or both shade layers. This style of covering is a great solution if you want to keep your home stylish while also increasing the functionality of your windows without overspending on new blinds. Costa Mesa Blinds & Shades understands the value of these kinds of investments, and we'll gladly send an expert over to sit down with you (free of charge) and present you with a range of options! Use our online system to schedule a free consultation today.