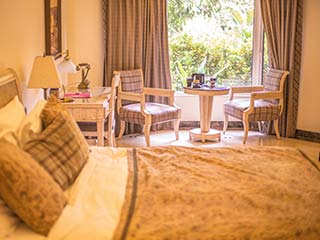 Short curtains and partial shades are all well and good if you just want to take the edge off of the sunlight. For Costa Mesa area properties or specific rooms that require total sunlight protection or privacy, half measures aren't going to cut it. Blackout window curtains keep all visible light from getting through and make the room's interior completely invisible for people standing outside (and the reverse). Bedrooms, guestrooms, and similar spaces benefit from blackout window curtains and draperies, and these window treatments also help regulate your home environment and security. Motorized curtains using smart Somfy controls let you maximize utility features. Optimize energy efficiency with motorized drapery solutions and add an aesthetic and functional value to any room.
What Makes a Blackout Curtain?
Don't let the name mislead you. "Blackout" window curtains aren't really a specific type or design, but more of a descriptive category. Any window treatment that completely blocks out light over the entire pane earns the "blackout" description. This means that it's possible to have white blackout curtains, black fabric ones, or anything in between. Most often, blackout window curtains are made of cotton or polyester with a reflective acrylic layer inside. But that's just the most common design. Long, trailing blackout draperies are ideal for tall bedroom windows and balcony glass doors. Shorter, sliding curtains are ideal for smaller rooms with less space. The latter design is also better for motorized blackout curtains. Costa Mesa area clients, residential and commercial ones, can find lots of unique aesthetics and smart features they can choose to add to their custom treatments.
About Motorized Blackout Curtains
Motorized window treatments are more or less the default for new houses and apartments. And as you can guess, motorized blackout curtains are no exception. This is especially helpful for bedroom curtains, which you might want to leave partially open at night but closed before the sun can ruin your sleep. Motorized blackout window curtains have been scientifically shown to improve sleep, but only if you have them in place! The advantage of installing motorized blackout curtains with Somfy controls in your Costa Mesa property, aside from convenience, is that you can set them to open or close in advance. During the sunny or busy hours when the sun and prying eyes are more prevalent, motorized blackout curtains have you covered. You know what we mean! Somfy motorized curtains offer wonderful control features and wireless options that can integrate with smart home control systems.
Motorized Curtains Beautify Your Costa Mesa Property
Blackout window curtains can be a credit to your indoor decoration scheme, as well as to your sleep, furniture, and security. Hanging some tassels and fringes on any motorized window treatment makes them look fancier. If you have taller curtains or blackout draperies, you can also think about valences to give them some framing and contrast. There's usually a range of options that can all work for a given room, and with our consultation services, the professionals can help you decide.
Free Estimates on The Complete Window Curtain Package
Can't decide what to choose? Combine different features for shading solutions custom made for you! Our blackout window curtains and draperies all come with a free estimate, which also covers those consultation appointments mentioned above. These motorized draperies are custom made and designed to your specifications. You can choose your material, colors, and style, as well as Somfy control and power systems for motorized curtains, blackout, or even sheer. The installation services we provide include setup for any computerized features, all the way down to smartphone apps for online controls. Book a free estimate and learn more about our affordable custom-made blackout curtains and drapes available to all nearby Costa Mesa area customers!