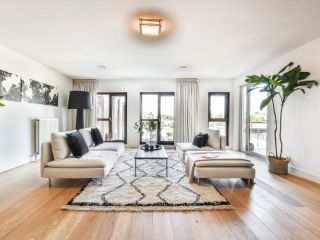 Are you looking to enhance your Costa Mesa space with elegant window treatments? Look no further than Costa Mesa Blinds & Shades! We specialize in providing premium custom draperies and curtains for both residential and commercial properties. Our expert team is here to guide you through the process, from choosing the right window treatments to installation and maintenance. Discover the advantages of draperies and curtains, and why they are the perfect choice for your windows.
Why Choose Custom Draperies & Curtains?
Timeless Elegance: Draperies and curtains add a touch of timeless elegance to any room. Whether you prefer classic or contemporary styles, we have a wide selection to complement your interior design.
Superior Light Control: With our blackout curtain options, you have complete control over natural light, ensuring your space remains as bright or as dark as you desire. Say goodbye to unwanted glare and sleepless mornings.
Enhanced Privacy: Draperies and curtains provide an unmatched level of privacy, making them ideal for bedrooms and living areas. Choose from a variety of fabrics, patterns, and colors to match your taste.
Energy Efficiency: They act as insulators, helping maintain a comfortable indoor temperature year-round. Save on energy costs while reducing your carbon footprint.
Customization: We offer a range of customization options, including curtain length, style, and fabric. Our experts will assist you in choosing the perfect solution for your unique space.
Motorization: Experience the future of window treatments with motorized draperies. We partner with top brands such as Somfy and Lutron to provide cutting-edge automation solutions.
Free Consultation: Take advantage of our free consultation service, where our experts will visit your Costa Mesa location to understand your needs and recommend the best window treatments.
Installation: Our team handles the entire process, from precise measurements to professional installation. We're also here for any future adjustments.
Choosing the Right Window Treatment
Not sure whether draperies are the best fit for your space? We can help you explore other options such as blinds, shades, and shutters, tailored to meet your specific needs. Our goal is to ensure you make an informed decision that adds value to your home or business.
Visit Our Costa Mesa Showroom:
When searching for "curtain store near me" or "curtain stores near me," look no further than Costa Mesa Blinds & Shades. Our showroom in Costa Mesa, California, is the perfect place to discover the latest trends in window treatments. Our experts will guide you through measuring for curtains, selecting curtain rods, and answering all your window treatment questions.
Costa Mesa Blinds & Shades - Your Window Treatment Experts
Revitalize your space with custom draperies, curtains, and cutting-edge motorization. Costa Mesa Blinds & Shades is your trusted partner for all your window treatment needs. Contact us today for a free consultation and bring beauty, comfort, and style to your Costa Mesa property.