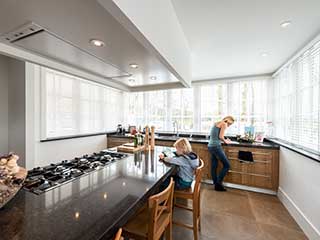 There are three key blind features that you should look for if you want your new window treatments to last years without failure. When buying modern blinds, whether aluminum, faux wood or real wood, there are all sorts of features to consider. These will help fulfill a particular preference and need you may have. Of course, there are some features that all property owners should require from their blinds. Here we outline three key features you should aim for. These are especially beneficial if you want blinds that are sturdy, easy to use and made with real quality.
Retractable Cord Controls

Some shade designs come with twistable handles, which tend to be more fragile and easy to disrupt. A simple cord is hard to beat. Its simplicity makes it robust and easy to operate. Retractable cords are even more convenient. They incorporate a tilter that pulls the blinds up unless the "brake" is on. This will allow you to easily control the level to which your blind is open with a simple touch. Of course, if you're looking for more advanced cordless options, there's always motorized blinds and shades. These can introduce auotmaiton to your home or business. Most modern motor models also come with Smartphone connectivity, and set-and-forget timers.

Strong Head Rails

Venetian blinds and roller shades often come with a head rail that holds the folded or rolled cover in place when it is fully drawn and collected. You can often tell the quality and strength of a blind by this material used for this feature. Light and flimsy head rails mean lesser quality and most likely a less robust tilter mechanism. Steel head rails indicate high quality, as you must have a strong rail to contain larger more robust tilters. The enhanced durability is directly correlated to improve longevity for your window treatments.

Reinforced Blinds Tilters

When buying your new faux wood blinds or any other style of window treatment, the types of Tilters that are in place matter quite a bit. The best tilters are those that are built to withstand larger amounts of pressure. The stronger the tilter, the harder it will be and the longer it'll last. These features tend to break when someone pulls hard on the cord, especially when they're cheaply made and aren't strong enough.
The Best Window Treatments Around
Getting modern blinds installed is always a good idea as it can add to your interior decor and improve your energy savings. When you're looking for a pocket-friendly way to spruce up the style of any room in your home or work place, give Costa Mesa Blinds & Shades a call. We'll send an expert over to sit down with you, free of charge, and provide all the consultation you need to find the best blinds for your windows. Feel free to contact us using the online scheduling system on this website.