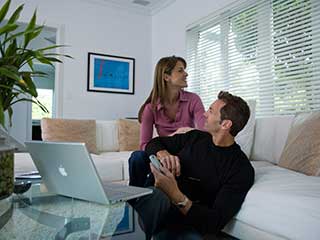 The use of remote control technology to lower, raise, and adjust the vanes of motorized blinds has produced tremendous resolute. With the utilization of Wi-Fi and network devices to control smart motorized blinds, we've seen a growth in popularity for these electric window treatments. Somfy blinds have a tremendous variety to offer, as do motorized Lutron shades with dimmers, clickers, and smartphone connectivity. Incorporate motorized blinds with smart home systems to get the best automatic window covering solutions for any nearby Costa Mesa property. With in-depth advice and consultation from our experts (provided for free!), you can expand upon décor and significantly improve energy efficiency and the general utility of any living space or workplace.
Blackout Blinds Motorized For Bedrooms – Sleep & Privacy
A must-have for bedroom windows are blackout window treatments that provide the ability to create complete darkness inside. This is paramount for healthy sleep, as the presence of light can hinder or prevent entirely the ability to fall asleep or stay asleep for prolonged periods of time. Blackout blinds, motorized with smart Somfy controls, for example, will offer significant appeal for that reason. No need to get out of bed to close or open the blinds. Blackout motorized window treatments also provide total privacy, as light doesn't pass through them, and therefore neither can anyone outside peer through.
Motorized Shading Solutions – Lutron and Somfy Smart Controls
The leading brands in the field of motorized blinds and shades remote controls offer a variety of solutions for shading different sized windows and controlling the automatic coverings. You can choose a simple wall switch to bring rolling shutters, blinds, or motorized shades up and down, or connect them with a network device and use the smart home system for command inputs. Smartphone connectivity can also offer you excellent control, as do the variety of handsets. Somfy and Lutron motorized blinds and shades remote controls bring Costa Mesa customers the advanced technology to provide high-tech solutions with remarkable ease.
Costa Mesa's Best Custom Motorized Blinds
Use the advice and experience of local professionals to find motorized shading solutions perfect for every purpose. From patio covers and motorized awnings to Roman shades, vertical blinds, and many other options. Our design selection offers customers beautiful décor contributions and all sorts of lovely aesthetics. Combine that with custom-made-to-size motorized blinds and you've got beautiful and complete window covering solutions suitable for every need. Near the Costa Mesa area? Call us to schedule a free consultation on motorized blinds, shutters, or shades!