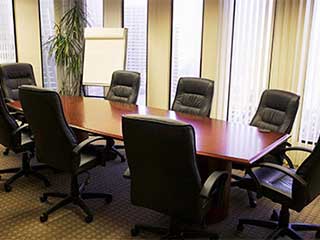 If you want to quickly and easily improve your property, custom vertical blinds are the perfect way to do so. Costa Mesa Blinds & Shades provides an amazing range of high-quality vertical blinds for any purpose. If you need vertical blinds with curtains, we can give you a huge range of different colors and materials to choose from. If you're looking for vertical blinds for your office windows, we've got you covered too. We provide a range of high-quality, wood, vinyl and aluminum vertical blinds for you to choose from, guaranteeing a long-lasting, high-quality product. If you're looking for the best vertical blinds in Costa Mesa, we're proud to offer you our window coverings.
Cheap Vertical Blinds In Costa Mesa
You might think that our top-quality products come at a premium price. Actually, our rates are surprisingly low, and we pride ourselves on giving Costa Mesa property owners access to great products at cheap prices. Our vertical blinds installation service is also very reasonable, so you can comfortably let us handle all the work. All you need to do is design the perfect custom window coverings for your home or workplace, and let us do the rest. Our Costa Mesa-based team even offers free in-person consultations, so if you'd like to find out more simply get in touch with us today.
Great Vertical Motorized Blind Deals
One of the most popular products around is our range of remote control blinds. These fantastic shading products make for the perfect solution if you want to introduce a little 21st-century convenience to your Costa Mesa property. In fact, these products have never been as easy to use as they are today. With smart connectivity, you can easily connect to and control your window coverings with just your smartphone. That means you never need to walk over to a control panel or search for a missing remote. Simply adjust natural sunlight levels from your smartphone, whether you're in the living room or in bed. What could be better than that? You can even block sunlight completely with blackout vertical blinds. That grants you more privacy and no sunlight glare whatsoever. Find out how cheap our custom motorized vertical blinds are today by contacting the Costa Mesa Blinds & Shades team today.
Low Prices On All Vertical Blinds Types
With our impressive selection of vertical blinds for windows of any size, it's easy to find the perfect product. We offer specially-designed custom products, like vertical blinds for sliding glass doors. So if you need to get a bit more privacy in your living room we have the perfect solution. In the same way, we offer patio door blinds as well. This means no more worrying about neighbors seeing into your property, or having to deal with unwanted sunlight coming through a large glass door. See what we could do for you by scheduling a free consultation at your Costa Mesa address today.
Free Consultations On Door & Window Blinds
We're proud to offer a huge variety of vertical blinds and other door and window treatments to anyone near Costa Mesa. Our custom blinds give you total control, and with our high-specification manufacturing process, you can be sure you're getting top quality. Contact us today to schedule a free estimate and find out more about our 2020 collection.