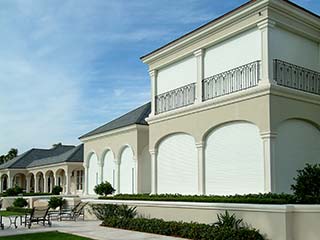 With every passing year, motorized window treatments are becoming increasingly popular. As advanced technology was introduced, motorized shades, blinds, and even rolling shutters became the preferred method of covering various windows and even outdoor lounge areas like patios and decks. With smart control systems like Somfy's, motorized blinds can work in tandem with Wi-Fi home systems and even your smartphone device. Our leading Somfy installers in Costa Mesa offer customers a variety of motorized shading solutions for every need and purpose.
Smart Motorized Shades For Windows
You can cover glass surfaces with roller shades that conceal them, but what about design? With all sorts of elegant looks like ones flaunted by Roman shades, you can enjoy both utility and style at the same time. Motorized sheer shades can diffuse sunlight and soften the ambient light passing through, making for a very pleasant setting. Somfy motorized shades offer your Costa Mesa windows a variety of choices for all sorts of purposes. Need to add better privacy to bedrooms? Blackout curtains or shades, motorized, can provide the most effective and convenient solution. Choose the method of window covering that best suits your needs and we can custom make it for you with smart Somfy controls.
Somfy Window Blinds Motorized For Costa Mesa Area
For those who prefer something a little more tactile, Venetian and vertical blinds with remote control features have become a great favorite. You can change the position of the vanes of the blinds remotely to increase or decrease the amount of sunlight entering the room. Motorized Somfy blinds offer smart control options utilizing Wi-Fi. That means you can incorporate Somfy blinds with smart home control systems and use voice commands or special sensors to have them self-adjust.
Best Motorized Shading Solutions For Outdoors
Somfy's innovative products don't end at the threshold. With patio covers, deck canopies, and various other outdoor shade structures, motorized solutions can offer you lots of benefits. Add pergola screens to protect from sunlight at lower angles or extend the ends of patio covers with motorized awnings. You can create excellent adjustable outdoor shading solutions to enhance the practical use of your outdoor lounge spaces.
Free Quotes on Somfy Blinds and Shades
With the use of Somfy's smart remote control technology and quality products, you can upgrade the utility and décor of any property. Using high-tech solutions and advanced blinds and shades, as well as rolling shutters and motorized drapery, Somfy offers Costa Mesa and nearby the perfect motorized shading solutions for outdoors and indoors. See what wonderful options are available to you at the best prices around by scheduling your free estimate consultation appointment today!