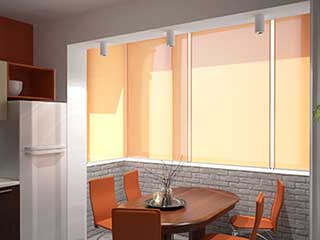 If you're looking for window coverings with a modern, sleek design, then roller shades make for an excellent choice. They are especially ideal for bathrooms and bedrooms, as they offer complete privacy when rolled down.
Cord and Cordless Options
Roller shades are typically made from stiffened polyester, which is placed on a metal pole and operated with a side chain or a spring. Of course, you don't have to get hand-drawn variations. Motorized roller shades are a very popular choice that allows people to draw these coverings automatically, or set a timer for them to open and close on their own.
Complete Darkness and Light Filtering Options
Roller shades are available in both light-filtering and room-darkening varieties. Blackout roller shades block out almost all light, as their name suggests. They make for a great addition to any room that requires having the option to completely reduce sunlight. A TV room or a nursery usually benefit from these types of coverings. Solar roller shades are great for blocking excess heat from entering your home through the windows. They provide protection from the sun while also offering a great view of the outside. They act similarly to sunglasses, by cutting glare and protecting furniture from ultraviolet rays, that can damage them and cause them to fade.
Simple and Functional
One of the most appealing factors for this particular kind of window coverings is their ease of use--they can be lowered or raised in one quick, easy motion, by simply pulling a spring or a cord. And for those who worry about cords posing a strangulation risk for young children, there are other options, as we mentioned earlier. Costa Mesa Blinds & Shades are proud to also offer a variety of cordless roller shades to our customers, as well as motorized ones that are fully smartphone compatible. And let's not forget about the five-year warranty that comes with all our products. Give us a call today to set up a free in-home consultation with a local blinds and shades expert.