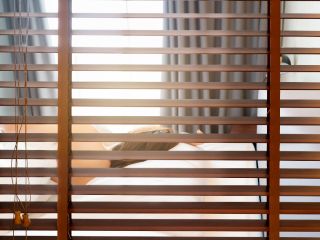 Welcome to Costa Mesa Blinds & Shades, your premier destination for exquisite window treatments. We specialize in a wide range of faux wood blinds, providing expert installation, motorization, and invaluable advice to transform your interior space. Whether you're looking to enhance your residential or commercial property, our team is here to assist you.
Faux Wood Blinds: Aesthetic and Functional Excellence
Faux wood blinds are a popular choice for those seeking a perfect blend of aesthetics and functionality. Our collection includes faux wooden blinds, wooden window blinds, woven wood blinds, and much more. With the authentic wood grain texture and a variety of colors and finishes, these blinds add a touch of natural elegance to your space.
Why Choose Faux Wood Blinds?
Faux wood blinds have several advantages over other window treatments. They are highly durable, moisture-resistant, and easy to clean, making them a perfect choice for humid environments like kitchens and bathrooms. These blinds are also energy-efficient, providing insulation and helping you save on energy bills.
Motorization for Convenience
At Costa Mesa Blinds & Shades, we understand the importance of modern automation in window treatments. That's why we use top brands like Somfy and Lutron to offer motorization solutions. Control your blinds with ease, either through remote control or your smartphone, and enjoy the convenience of automated window treatments.
Free Consultation and Installation
Our commitment to providing the best service extends to offering free consultations. Our experts will guide you in choosing the right faux wood or wooden blinds, tailored to your space and style. We handle the installation with precision, ensuring a perfect fit and hassle-free experience.
Indoor and Outdoor Solutions
Whether you need window treatments for your indoor living space or outdoor areas, we have you covered. Our range of faux wood blinds suits both residential and commercial settings, allowing you to create a cohesive and inviting atmosphere.
Experience the Excellence
Costa Mesa Blinds & Shades takes pride in delivering high-quality blinds and shades that elevate your space. Our selection includes faux wood horizontal blinds, faux wooden window blinds, wooden window blinds, and much more. We also offer blinds automation for added convenience.
Ready to Transform Your Space?
Don't miss out on the opportunity to enhance your interior decor with our stunning faux wood blinds. Contact us today for a free consultation, installation, and expert advice. Experience the difference that faux wood blinds can make in your Costa Mesa space.