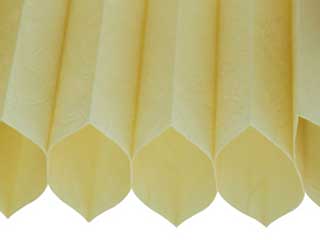 The best window treatments for keeping your house warm when it's cold out and cool when it's hot are cellular shades. They are flexible, inexpensive, and easy to install. Our custom-made products can be made to fit any window size, and are designed in a number of styles to provide the level of privacy, thermal protection, and decoration you wish for.
The Insulating Honeycomb
One of the most efficient ways to prevent heat from passing across a threshold is with layers of enclosed air supported by thin, thermoresistant membranes. Window panes are some of the biggest heat channels in your building even without factoring in the sunlight they allow in. By using the air insulation principle, cellular shades cut that down to a minimum. They are made of hollow, synthetic tubes full of air that prevent heat gain or loss through your windows, while also playing their primary role of keeping out excess sunlight and prying eyes.
Styles And Types
Cellular shades come in single, double, and triple layers of hollow tubes, with more layers providing more heat blockage. These thicker types are often called honeycomb shades because of the many consecutive holes running up and down the sides of a multi-layer cellular shade. They can be designed to open and close by collapsing their tubes like Venetian blinds that roll up around a spindle similarly to a roller shade, or to pull themselves into ribbon-like Roman style shades. For all their intricately engineered structures, cellular shades can be housed and controlled like any other window treatment material.
Motorized Or Hand Drawn
Like every style of flexible window treatment that our company provides, cellular shades can be designed with a hand-drawn cord, or with a cordless electrical motor. Motorized shades are safer for children, more convenient and reliable to use, and will still see you coming out ahead on electricity costs. Cord-drawn honeycombs are simpler to install and give you a more old-fashioned aesthetic.
Call Us For Cellular Shades
Whatever style and type of shades you decide to opt for, our products and services are going to bring a breath of fresh air to your home. Contact us today and get the best protection and look your window can sport.