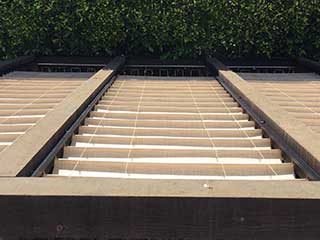 For creating shaded areas in your outdoor areas or simply to add decorative touches, patio covers come with a lot of benefits. You can improve upon the aesthetic of decks, pergolas, gazebos, and different patios and courtyards with the right set of outdoor pop-up tent canopies, shades sails, or more stylish patio umbrellas and other covers. With motorized patio shades, you add utility and technological advancement to your outdoor areas too. We provide Costa Mesa patio covers custom made to meet every customer's needs and suit different budgets. You can start by talking to our experts on any patio covers, awnings, and other outdoor shades you'd like to consider.
Freestanding Pop Up Canopy Tents
To add splashes of color to go with the hardscape of your patio, you can consider all sorts of freestanding outdoor shades and canopies. These covers will add a colorful and vibrant aesthetic to your patio, decking, or other outdoor areas. Creating shaded spots in your Costa Mesa outdoor lounge or even on lawns and gardens makes for a very hospitable and inviting approach. And the incorporation of pop up canopy tents or lets you do that with minimal effort. Plus, pop up canopies offer an easy and portable approach to patio covers. Simply move their base and pop them up again.
Patio Shade Sails
An easy and non-obtrusive way to add covers to large open spaces (or small ones too), shade sails can offer you excellent covering solutions for outdoors. These floating outdoor canopies stretch above your head, connecting to secure lines at four different corners. The shade sails hover over you, providing ample shaded spots for you to lounge under, eat a meal, or even work on your laptop. Shade sails can attach to roof awnings, pillars, and a wide range of other backyard features to cast shade down on open spaces. Many customers choose shade sails because of their minimalistic approach and effective ability to create wide shaded areas.
Costa Mesa Wireless Motorized Patio Covers Installers
For high-tech solutions for your outdoor spaces, motorized patio covers can add both colorful decorative touches as well as functional shading. With brightness sensors and remote controls, motorized patio covers will provide optimal solutions to harsh sunlight outside. As a motorized patio cover roof, roller shades for Costa Mesa outdoor spaces give you an easy way to protect yourself from UV rays and blazing sunlight without you having to move more than a finger. Without custom motorized patio covers and precisely measured outdoor roller shades, you can use Wi-Fi connectivity to turn smartphones and tablets into remotes.
Best Patio Cover Ideas For Your Outdoor Spaces
By consulting with our local patio cover installers, you can easily find the best solutions for your property. Looking for shade sails to stretch over an open space? Or do you want to add motorized patio covers to pergolas, decks, or other outdoor structures? Either way, we've got the experts to help. With a free consultation, you'll get all the advice you need to choose new patio covers for your Costa Mesa area business or home. Call anytime to book a free no-obligation estimate.