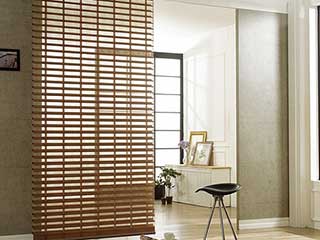 Sheer shades are a great option for those who want something a little different from conventional designs. These blinds feature transparent fabric that is cut to a slim form and held between panels. They are built this way to offer users a very delicate diffusion of the light through these windows. The effect is a beautifully soft control of light throughout your room. If you hate strong lighting and want to make your windows as comforting and graceful as possible, consider this unique design and transform the way light enters your space!
Made To Measure
Our range of styles can be altered to meet your specific size requirements. All we need are the dimensions of your windows and our specialist technicians will ensure that your choice of design is perfectly tailored to fit your space exactly! Whether you have long and wide windows, small awkward ones, or need a set with different dimensions for each unit, we have the expertise and experience to ensure that your sizing needs are met flawlessly. Avoid the frustration of having sets that don't match your windows as they should! Let our team help you get the right blinds in the exact dimensions you need!
Design Ideas With Sheer Shades
Those that love soft lighting will love sheer shades. They are as gorgeous to look at as they are practical for everyday use. Do you suffer when lighting conditions are too harsh? These blinds let you tame the light that enters your rooms with fine-tuned precision. The body of the blind is styled to match the interior of any modern home and the slowly rotating vanes that make up the face of the blind can be positioned to absorb and diffuse light effectively.
Have questions? Contact our support team at Costa Mesa Blinds & Shades today to get all the information you need!