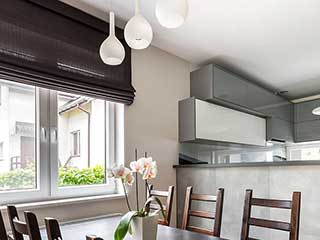 These shades are designed to fold up into a set of ribbon-like pleats while open, and extend into a sheer or ribbed sheet to cover the window when closed. Roman style coverings can come in a variety of more specific styles, and are a step up from roller shades or other window treatments, like Venetian blinds, when it comes to elegance.
Different Types Of Roman Shades
The basic principle of the Roman shade is that the tapes are looped through multiple anchors along both sides of the sheet, so that it folds upward into multiple overlapping layers when pulled taut. Within that principle, there's room for a lot of variation. Flat and hobbled Roman shades retain a partial pleated structure even when closed, while sheer Roman shades are perfectly smooth until opened. It depends on the look you want!
Aesthetics and Light Protection
The most obvious advantage of Roman shades is the added decorative value of the folded pleats, but that isn't the only one. If you get the flat or hobbled styles, the overlapping fabric layers will provide an extra barrier against the sun while the shades are closed, making for a darker room. If you'd like to have more complete light control in a room while also complementing its décor, these types of Roman shade are probably the best choice. Of course, Costa Mesa Blinds & Shades will happily send an expert over to consult you on which window treatment truly is the perfect type for your needs. Free of charge.
Advanced Options Too
In addition to coming in a range of fabric types, as well as other materials such as wood and bamboo, Roman shades have some structural customization options. An embellished bottom will enable you to let in dappled sunlight by pulling the shades a few inches up, and increase their elegance with a Medieval or Victorian styled flourish depending on the shape. Like most of our other products, Roman shades can also be motorized, operating cordlessly by remote control, timer, or sensor.
The Finest Looking Roman Shades In The LA Area
Roman shades are a favorite choice for homes, hotels, and plush office settings the world over. To get a set custom made and installed for yours, just give Costa Mesa Blinds & Shades a call, or schedule a free consultation using our online system.