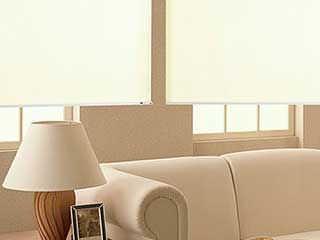 Do you want to get maximum privacy at your property? Then our range of custom blackout blinds is ideal for you. We provide all the options you need to create window coverings that are both stylish and functional. We offer the best blackout blinds around, and our low prices mean you'll always get a great deal. If you're looking for high-quality window coverings in Costa Mesa, then we're the company you need. Why not set up your free consultation with the Costa Mesa Blinds & Shades team today?
Cheap Blackout Blinds For Bedrooms
One of the most popular locations to install blackout blinds is in bedrooms. There are many reasons why. For instance, you may have a nearby neighbor whose windows overlook yours. That means you need guaranteed privacy at all times, and our range of blackout window coverings gets the job done. We use opaque materials that make sure no light passes through. This is essential for bedroom blackout blinds because it's all too easy to see through thin material when it's backlit. See what our range of custom options can offer you. Schedule a free consultation at your Costa Mesa property today.
Low Prices For Motorized Blinds
If you want the latest in cutting-edge convenience and security, then motorized blackout blinds are a great investment. These systems are perfect for improving any property, and we offer a range of different designs to suit every room in the house. These are a great fit for living rooms, where it becomes simple to cut out dazzling light and glare. A simple press of a switch or a tap on your smartphone can be all you need to adjust the light to the perfect level. Our blackout blinds for French doors are an ideal way to control light in your living room and are extremely easy to use. You can even install motorized blackout blinds for skylights and get easy-to-use control over natural light. Our range of motorized window treatments offers both wireless and wired power options, making it easy to find the ideal product for any window. Interested in finding out more? See how cheap our motorized blackout blinds are by scheduling a free consultation with our Costa Mesa-based representatives.
Blackout Blinds For Office Windows & More
We're proud to offer our high-quality window coverings for offices as well as homes in the Costa Mesa area. Blackout blinds for office windows are a great investment and can bring increased productivity to your workforce. How many times have you sat in a meeting and had to deal with dazzling, glaring sunlight? Our office blackout blinds make this problem a thing of the past. Our low rates on custom blackout blinds make it easy to fit new window coverings into your budget.
Great Deals On Custom Blackout Blinds in Costa Mesa
Whether you want privacy or comfort, our high-quality blinds are the answer to your problems. All of our products are custom-made, which means you'll always get window coverings which match your home perfectly. Speak with our Costa Mesa-based team today for a free consultation on blackout blinds at your property.