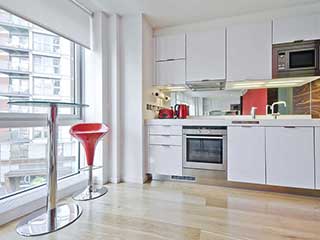 So what are motorized shades, really? Well, these automated window treatments are basically any type of covering that isn't hand-drawn but instead has some type of motor that allows it to operate automatically. They can be controlled with a remote, a wall switch or your own smartphone. It all depends on the model of the motor that's used. Naturally, the shade installation will be slightly more complex with motorized coverings. But not to worry; this is not something you'll have to deal with yourself.
Customizable and Simple
Roller shades are the type that is made of fabric and roll up to open. They're one of the most customizable types of shades due to being made of cloth. This means they're available in a large array of patterns and colors to suit any tastes. There are also light reducing and blackout options if you'd like certain rooms like the bedroom or nursery to be completely dark as needed. Our roller shades are made to the correct size of the corresponding window, which is especially helpful for any that are strangely shaped. Even better, when they're motorized, that means that there's no more need for those annoying strings to manually open or close them, instead, you can just use a remote.
Protect Furniture, Books, And More
Consistent and long-term exposure to the sun can do a lot of damage to all sorts of things. The colors will eventually fade and be bleached away from furniture, paint, books, and otherwise. Sometimes it's not as easy as simply closing the blinds yourself if the room has a high window you wouldn't be able to. That's where motorized shades come in! With a click of a button, or a set timer, you can have the shades shut out the sun with even the highest window, thus protecting your belongings from harmful UV rays. If your home has a lot of windows, it also makes it easy to have the shades all perfectly straight and in alignment at any height instead of you having to struggle with strings to try to make them precise.
Nearby Experts You Can Count On
Costa Mesa Blinds & Shades has been working in the area for years providing customers like you with brand-new, lovely shades that work with the push of a button. Not only shades; blinds can be motorized as well, from faux wooden ones to Venetian and vinyl coverings. Even motorized drapery is an option. You can rest assured that your new motorized window treatments will be installed with the utmost care and attention. We'll measure each window to make the custom made shade before installing and testing each of them.
Contact Us Today
Don't spend hours combing the internet in search of new coverings for your home or office windows. There's a simple, time-saving solution. Contact Costa Mesa Blinds & Shades to schedule a free consultation.