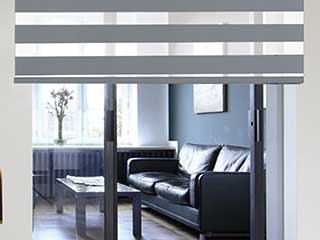 Layered shades are just one of the many types of window treatments offered by Costa Mesa Blinds & Shades. An innovative type of covering, these shades are stylish and functional. They filter natural light while allowing you to easily adjust the amount of ambient lighting and privacy you require. They can also feature double cells for insulation and both trap and repel the summer heat and winter cold.
How Do Layered Shades Work?
These coverings consist of two overlaid layers of striped fabric of contrasting shades. They exhibit a look similar to a striped zebra pattern (where one of their synonym names comes from). These coverings are basically a mix of roller shades and a blind. The two separate fabric layers roller over each other, and since one is sheer and one is darker, they allow the user to control how much light gets through. If the stripes are parallel to each other, they'll create a dark indoor atmosphere, blocking out most sunlight. If they're positioned adjacent to each other, sunlight will filter through the sheer slats, and get blocked by the darker ones, thus creating a striped shade pattern, granting both light and privacy simultaneously.
So Who Are They Good For?
If you're interested in getting these shades for your home or office windows, you'll be happy to learn there's a great variety of design options to choose from. This includes varying colors too. Thanks to this, these shades can complement a range of decors, so they're more than suitable for residential and commercial properties. Layered shades make for an especially great addition to rooms where you need to have a fast and easy way to adjust sunlight exposure. What's so great about layered shades is their ability to provide UV protection, privacy, and easy sunlight filtering, all at the same time. They're great for office spaces and kitchens, where sometimes you'll want to bring some light in, sometimes you'll prefer less.
Custom Made Layered Shades Available Near You
Costa Mesa Blinds & Shades will take precise measurements of your windows to ensure your new shades will match them perfectly. That's only after you sat down with one of our experts for a free consultation, during which they'll advise you on the different options available and help you make sure which type of window treatment is right for your needs and budget. If these shades sound like the perfect window coverings for your home or business, give us a call. Want to do things a little more 21st-century style? Then go ahead and use the online scheduling system on this website to book an appointment.