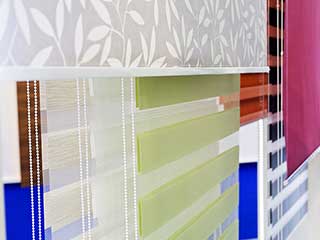 Costa Mesa Blinds & Shades is dedicated to giving you the very best products, whether you're interested in roller shades or motorized wood blinds. Orange County residents and business owners who are looking for new window treatments that can complement their interior fashions, reduce sun glare and provide some easy light filtering options need only turn to us to find the perfect blinds or shades for their needs.
An Essential Part Of Any Room
You'd be surprised how important blinds and shades can be. No room is complete until you've considered how natural light will affect it. Too much sunlight can cause glare and overheating, not to mention, it can end up damaging your furniture. Too little natural light can make a room feel gloomy and dreary, and make it difficult to read or work. This applies to both homes and office spaces. Getting the balance right takes practice, or at least some expert consultation.
Let Us Help Choose Your New Shades
It can be hard to settle on the perfect window treatment design choices. There's such a range of options to choose from, that it can be difficult to know exactly which covering product is right for you. That's why, at no extra cost, Costa Mesa Blinds & Shades provides a no-obligation consultation at your property. This gives you the opportunity to benefit from in-person advice, and for us to offer guidance on the right blind and shade materials and design types for every room.
Motorized Blinds and Shades
Let's not forget, while there are cordless window treatment options that are still hand-drawn, this is the 21st century, and automation is at an all-time high. There are so many special and innovative models available from major brands like Somfy and Lutron. Want to control your motorized window treatments using your smartphone, a remote or a wall switch? These options are readily available. You can even sync your motorized blinds and shades with light sensors that will control them automatically, without you even having to remember to draw them.
Arrange Your Appointment Today
With a 5 year warranty on all our blinds and shades, there's no reason to look anywhere else. The excellent range of custom made products you can get from us, combined with a professional installation and a personal touch, makes Costa Mesa Blinds & Shades the perfect choice for your new window coverings.
The Best Blinds and Shades Near You!

Free Consultation Appointments
Professional Installation Services

Custom Made Blinds & Shades

Somfy & Lutron Motors and Controls