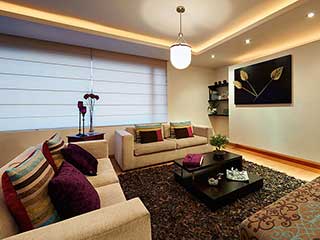 Roman shades have long been the "go to" option for homeowners looking for an elegant but streamlined look of fabric window coverings.
The Advantages Of Roman Shades
Roman shades have ageless quality and bring a classic look to any room, including bedrooms, dining and living rooms. The design options are limitless and depending on the fabric, they can appeal to any taste. While traditionally Roman Shades retract into a stacked bundle when pulled, you can add supportive wooden slats so that they can neatly pile up when collapsed. They are very efficient at saving energy and can also offer good light control and filtering for affordable prices.
Design Options for Roman Shades
The material and color of the fabric affect the quality of the shade, and so choosing the right one for your needs is crucial. It will determine the translucency and the way to be stacked when retracted. The most popular materials are light to medium weight fabrics, as the thick and embellished types are less pliable and more difficult to mold into eye-pleasing folds. Additionally, Roman shades can be either relaxed or constructed. The relaxed ones have no rigid support for the fabric to sag gently and create a curved bottom, while the constructed types have sewn in horizontal rods that generate straight bottoms. Lastly, as a final touch, shades can be lined with translucent sateen or blackout fabric, which enhances the light filtering ability and hides the strings.
Manual And Motorized Controls
Roman shades are controlled using a continuous loop system, cord and cleat, or electric motors. Originally, the shades were controlled with either a continuous loop of a beaded chain or with a bundle consisting of a single cord made up of all strings and attached to the fabric. The newer system however makes everything simpler, easier, and more convenient. This new automated mechanism eliminates the need to pull cords and enables the operation by the simple touch of a button on your smart device.
If you chose to install a Roman Shade, call our representatives for a free consultation. They will help you go over all suitable options and ultimately will provide you with a quick and professional installation service.