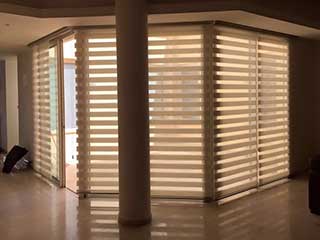 Whether you own a coffee shop, an office or a clinic, the type of blinds or shades you have matters a great deal. They can add to the indoor ambiance, influence employee productivity, and really bring certain decors to life by complementing them.
Window Treatments Can Help Set The Tone
Choose from many types of blinds and shades based on the way your space is used and the type of atmosphere you're trying to create.
Window treatments in a hotel, office, or corporate setting help set the tone for the business. It's important that they complement the surrounding decor, as well as reduce glare and provide some UV protection. That means they must be durable, functional, and attractive all at once.
What Else Should I Look For?
Additional factors to consider when deciding which type of blind or shade is right for your space include energy efficiency, visual appeal, employee productivity, and what type of room it is. Do you need to be able to achieve complete blackout? Are room darkening shades enough? An office space with plenty of employees will benefit from glare reduction. A conference room where deals are being negotiated should probably have sheer shades, or some other type of covering that offers privacy in addition to light filtering.
Every Window Has a Suitable Cover
Cellular shades with a light filtering or room darkening option are a great choice for a room with large windows, while Roman Shades can add a distinctive, custom look to a waiting area or a single office. Blinds and shades come in a range of materials, such as wood, vinyl, silk, rattan, and many others. They also come in a beautiful array of different color palettes that can accentuate any style. Many of our products offer cordless options. And let's not forget about motorized shades. Cordless shades can give you a clean, sophisticated look while minimizing safety concerns. Whether you're outfitting individual offices, open plan workspaces or conference and meeting rooms, Costa Mesa Blinds & Shades will help you find the perfect covering for your windows. Contact us to schedule a free consultation appointment today.